Panther Shock & Vibration Sensor/Recorder
Featured Product from Instrumented Sensor Technology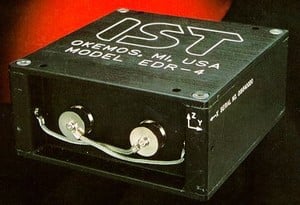 The PANTHER Model EDR -4 series shock & vibration data loggers, monitors and recorders are self-contained, user-programmable acceleration sensor/recorders. The compact, 5lb. Package is designed for remote, stand-alone shock and vibration measurement and recording over extended time periods ranging from several hours to several weeks.
Features:
Triggered Waveform Recording
3 & 6 - Channel Capabilities
12-bit A/D, 74dB Dynamic Range
Programmable Digitization to 15 KHz/CH
Three Single-Ended Inputs
Three Differential Inputs
Internal PR Triaxial Accelerometer (Rentals Offered)
Constant-Current Excitation For Low-Bias PE Accels
User Adjustable (DC) Offset Correction
Programmable Time or Event-Based Triggering
Programmable Anti-Alias Filter From 10Hz to 2+kHz
Programmable Gain Adjust
6 MB Onboard Memory, Expandable to 108 MB
Programmable Data Memory Partitioning
Sliding Window Overwrite Memory Management
High Speed Parallel or Serial Port Data Communications
Precision Synchronization to 1 USEC
Battery Powered for 30 - 60 Days
The EDR-4 shock & vibration data monitor, logger and recorder is a precision field measurement instrument offering major improvements in recording speed, onboard data storage, dynamic range, data management, and programmability features.