Shock, Vibration & Environmental Recorders
Featured Product from Instrumented Sensor Technology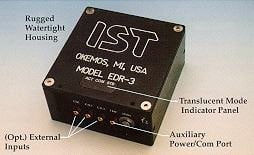 The EDR-3C Series is a portable impact, shock and vibration logger, recorder and detector has a built-in triaxial accelerometer along with many other features including easy setup and use and can be battery powered for up to thirty days, onboard memory and more.
Highlights:
Measures Shock, Vibration & Temperature
Options for Humidity, Pressure, Strain, Load, Full Waveform, Time History Recording and More
Download via USB or high speed serial
Built-in piezoresistive Tri-axial Accelerometer
Continuous recording from minutes to hours depending on memory & sample rate
Triggered recording up to several months or monger
5,291 "event" memory capacity
All events date/time stamped
Patented IST Sliding Window Overwrite (SWO) memory mode
Fully programmable sample rates, triggering, event lengths, memory modes
Up to 6 High-Speed Accelerometer channels
External input channel options for PE voltage mode accelerometers
Precision Low Noise accelerometers, DC response
Full scale g ranges from 2g to 500g
Sampling Frequency to 3.2 kHz/channel
Triggering: threshold, time-interval, time-delayed, time at level, external input, manual and networked
Automatic Offset Correction (for DC accelerations, Bridge Balancing)
Vibration Controller Compatibility for Field Data Replication, PSD Profiles
Battery powered continuous recording to 30+ Days , 60+ Days with New "Powersave" feature
Memory nonvolatile to 6+ months
Pre-trigger and post-trigger programmability- never misses anything
Extremely rugged: 500g+ shock fragility
Small Size: 37 cu in, 2.2 lb.
Powerful Windows NT/2000/XP/7 Software Included
Easy to Set Up and Use
The EDR-3C series impact, shock and vibration combo recorders offer you a time-tested reputation for proven performance and reliability with hundreds of successful installations since 1989. The EDR-3C series operates similarly and differs only in programmability features, on-board memory and channel capacities. Each impact, shock and vibration combo recorder is powered by a specially designed C-Cell battery pack (9 Volt optional.)
The EDR-3C impact, shock and vibration combo recorder is used in conjunction with DynaMax programs and downloads the EDR-3C's memory via an IBM compatible personal computer using serial & USB. Together, the EDR-3C and the DynaMax software program provide a powerful tool for accurately recording and analyzing dynamic environments.
About Instrumented Sensor Technology:
Instrumented Sensor Technology is the world leader in portable, stand-alone data recorders for dynamic measurements. IST supplies recording systems and data analysis software to leading companies throughout the world. We specialize in remote environments and offer the finest self-contained field recorder in the industry. With an international network of support staff we offer outstanding service after the sale to ensure your success.