VibTimer+ 3Dv2 Shock Logger for Transportation
Featured Product from Instrumented Sensor Technology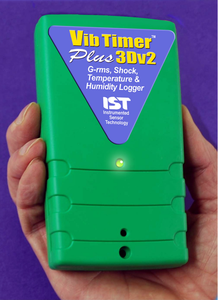 VibTimer-Plus™ 3Dv2 is a new, low cost 3-axis g-rms and peak shock logger for transportation and other industrial monitoring applications. The device attaches to your shipment or machine and records g-rms vibration level information over long time periods along with exact date/time of all measurements.
Features
3-axis g-rms vibration logging over user selectable time windows

Peak-g shock recording (Max) over user selectable time windows

Max/Min temperature and humitity logging over time windows

Time Window selections from 1 min to 24 hours

Active LED indicator lamp

6 month battery life user-replacable

Wireless Blue-Tooth PC data communications

Very simple to setup & install

Data imports to excel

Small Size and Weight

Low Cost
Applications
Carrier Handling Quality Evaluation and Comparison
Shippment Monitoring
Pallets, Ocean Containers, ISO Containers, Crates
Rail Cars
Transformers, Fuel Cells, Large Machines, Semiconductor Fab & More
Medical Imaging Equipment
Aircraft Turbulence, Hard Landing
Ordanance & Munitions
Ride Quality Measurements
Fleet Handling Measurements
Industrial Machinery Monitoring
Large Machine Vibration Monitoring
Remote Machine Operational History Documentation
Visit IST or contact us today for details.