ILD0506EL350 High Power Pulsed Transistor
Product Announcement from Integra Technologies, Inc.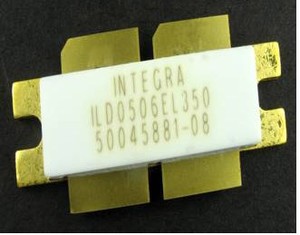 Integra Technologies demonstrates the advantages of LDMOS technology in pulsed radar applications.
The high power pulsed transistor part number ILD0506EL350 is designed for P-Band systems operating from 480 MHz to 610 MHz. Operating at a pulse width of 15ms with a duty factor of 33%, this push-pull MOSFET device supplies a minimum of 350 watts of peak pulse power across the instantaneous operating bandwidth of 480-610 MHz. Maximum reliability is achieved through all-gold metal contacts, wire-bonding and package.
Please feel free to click on the hyperlinks below to access the complete datasheet for this or any of the other applicable devices. All are available for immediate sampling!
Recent Integra Product Bulletins:
High Power S-Band Radar Pallet: IBP2729MH300
Long Pulse, Multiple Stage L-Band Radar Pallet: ILP1214EL200
---