S-band Radar 50ohm Matched LDMOS Module
Product Announcement from Integra Technologies, Inc.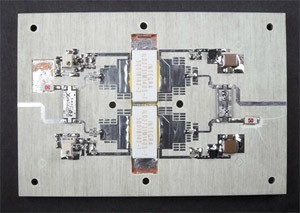 Integra Technologies announces another S-band radar pallet that will significantly reduce cycle time in your next high powered design. Part number ILP2731M260 is a 50 W matched high power pulsed radar pallet amplifier for S-Band radar systems produced for drop-in manufacturability. The pallet amplifier supplies a minimum of 260 watts of peak pulse power under the conditions of 300us pulse width and 10% duty cycle operating over the instantaneous bandwidth of 2.70-3.10GHz. The unit operates in class AB mode with 32 Volt drain bias optimizing the gain and efficiency parameters.
---