VHF-Band Pulsed Power Transistor
Product Announcement from Integra Technologies, Inc.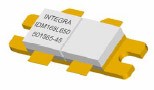 The high power pulsed transistor part number IDM165L650 is designed for VHF-Band systems operating at 125-167 MHz. Operating at a pulse width of 1ms with a duty factor of 20%, this dual MOSFET device supplies a minimum of 650 watts of peak pulse power at a fixed input power of 80 watts across the instantaneous operating bandwidth of 125-167 MHz. All devices are 100% screened for large signal RF parameters in the broadband RF test fixture across the entire specified operating bandwidth with no variable or external tuning.
---