Cost Effective Large Area Travel XY & XYZ Gantry
Featured Product from IntelLiDrives, Inc.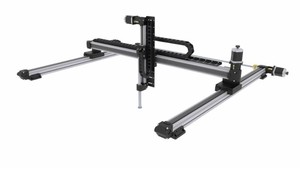 XY travel from 300 x 300 mm to 3 m x 3 m
Z axis stroke 300 mm to 1000 mm
Synchtonized belt drive
Stepper, Servo, SMART motors
Repeatable to 50 microns
Load 10 to 30 Kg
IntelLIDrives new Syncronized XY Gantries BEMA Series are offered in travel length from 300 x 300 mm to 3,000 x 3,0000 mm. With speed up to 2 m/sec, BEMA Gantry Series is perfect for applications in high speed positioning for light-to-medium payloads.

Can be motorized with stepper motors, brush-less servo motor/encoders or integrated SMART motors. Contact-less end-of-travel limit senors are installed on these systems.

Can be fitted with ZR axis module for XYZR configuration.