Advanced-Roaming Technology for Enterprise
Service Detail from Intelligraphics, Inc.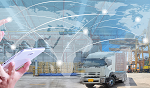 Basic roaming occurs when a wireless client device moves outside the usable range of one wireless access point (AP) and connects to another AP—usually one with a stronger signal. The challenge comes during the actual "hand-off " process, which, according to the IEEE 802.11 standard [1], is dictated by the client device. The hand-off is the process of the client device disconnecting from one AP and then re-associating with another. This process consists of three phases:
Scanning: As the device moves away from the AP to which it is connected and the RSSI values begin to drop, the client device sends packets to identify AP alternatives. Upon discovery of accessible APs, the device then selects its next AP based on specific criteria.
Authentication: During this phase, the client device sends an authentication request to the new AP and waits for a response from the AP to approve or reject the request.
Re-association: Upon approval by the new AP, the client sends a re-association request and waits for a response. Once the re-association is complete, the new AP sends out a disassociation packet to the old AP so that the routing tables can be updated.
Basic Roaming can take as many as 10 seconds.
IGX Lightening Advanced-Roaming few as 100 ms.
Intelligraphics Advanced Roaming incorporates heuristic roaming methods with a pre-determined model that calculates roaming conditions, solving major portions of necessary analysis long before the actual roam decision.
Pre-scan occurs before the actual roam phase
Candidate AP selection as part of pre-roam algorithm
AP ranking occurs within the pre-roam algorithm
All roaming independent of infrastructure and AP configuration
Optimized BG scan and BG scan parameters
Full scan channel selection and control
Prevents loss of connection to upper stack during the advanced roaming phase
Uses multiple triggers as source for roaming, including RSSI, signal, rate error, and beacon miss
Adjustable roaming parameters
Cisco Compatible Extensions (CCX) v4
Advanced power management
Industrial temperature range
Integrated configuration utility with network profiles
PMK Caching
CC
WPA and WPA2 Enterprise Security
Support for 802.1x EAP types:
EAP Fast
EAP TLS
PEAP GTC
PEAP MSCHAPv2
PEAP TLS
LEAP
EAP TTLS
PEAP TLS
FCC
ETSI
KCC
TELEC
Worldwide
Featured Operating Systems
Linux
Windows 7
Windows Compact 7
Windows Embedded Standard 7
Windows 8
Windows 10
Android