Advanced Wi-Fi Modules for Industry and Logistics
Featured Product from Intelligraphics, Inc.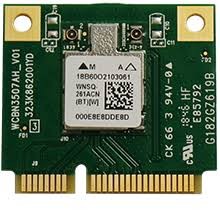 Optimizing "just-in-time" material handling and logistics operations using data-driven insights requires maintaining real-time connectivity to forklifts, trucks, and other mobile assets. Most 802.11-based Wi-Fi modules do not deliver the performance needed to ensure persistent links to access points (APs) as assets move through a warehouse, open-air staging area, or manufacturing facility.
When the link to the AP drops, critical data is lost, and establishing a new connection to the nearest AP can take several seconds. Multiply this by dozens of APs in a typical facility with multiple moving assets and the dropped connectivity time begins to add up—as does the loss and retry of critical data.
Intelligraphics' IGX-PACAH1-6174a1-BT Advanced Roaming Module solves the connection challenge by accelerating AP connection speeds. It is a single-die Wireless Local Area Network (WLAN) and Bluetooth (BT) combo module that supports 2×2 multi-user multiple-input and multiple-output (MU-MIMO) technology with two spatial streams. It supports IEEE802.11 ac/b/g/n WLAN standards and BT v4.2+HS, and is designed to deliver superior integration of WLAN/BT and low energy technology. This module using Intelligraphics' proprietary Advanced Roaming Drivers offers a significant enhancement to mobile asset uptime and availability. It uses pre-emptive signal loss detection and AP scan optimization to significantly reduce reconnection time down to less than 100 milliseconds, ensuring optimal connection time. Advanced Roaming helps prevent the network and live applications from experiencing a network drop, thus improving overall application reliability and Quality of Service (QoS).
Wirelessly connect your entire fleet of mobile assets to collect critical operational, maintenance, and safety information. Track, manage, and analyze the state of critical assets in real-time so you can make smarter decisions faster, continuously improve safety, and reduce costs. Intelligraphics' Advanced Roaming Modules provide an infrastructure-agnostic, scalable solution allowing you to quickly integrate and accelerate the value of your mobile fleet without sacrificing your existing investment.
IGX-PACHA-6174 Wi-Fi modules provide fast, seamless roaming along with CCXv4 support and enterprise-class security to unleash the power of Wi-Fi in in a single solution.
Improve real-time visibility and control over mobile fleet assets
Enable applications for tracking fleet vehicle health including motor status, brake wear, and battery charge level
Tighten maintenance cycle and safety compliance audits
Gather vehicle route, queue, and dwell time information to continuously drive efficiencies
Reduce fuel, maintenance, and employee costs
Streamline forklift pick and place operations in the warehouse, distribution center, and manufacturing floor
Drive Industry 4.0 automation initiatives throughout all your operations
"Today's rapidly expanding enterprise mobility, robotics, and M2M segments along with the exponential growth of IoT calls for wireless solutions that stay connected, anytime, anywhere. Our advanced roaming modules dynamically predict and prevent connection loss to the IT stack, customers can realize higher efficiencies, lower expenses, and achieve faster return on value," said Scott Lawson, President of Intelligraphics.
Take your Wi-Fi-enabled and Internet of Things (IoT) applications farther and faster, visit: www.intelligraphics.com.
Intelligraphics Contact Information
11615 Angus Road, Suite 104L
Austin, TX, 78759
USA
Tele: 469-951-8911
Fax: 972-479-1760