Debug & Diagnose w/WiOpsy Dual Band WLAN Sniffer
Featured Product from Intelligraphics, Inc.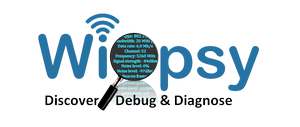 WiOpsy, from Intelligraphics, provides live capture and off line analysis of all Wi-Fi frames from 802.11 devices on any Wi-Fi Channel worldwide. Use one tool to diagnose both hardware and software issues.
WiOpsy delivers a complete hardware and software solution to perform capture of wireless traffic and analys of all data, to debug and diagnose any WiFi deployment field issues faster.
The WiOpsy Sniffer is a best in class, enterprise grade WiFi network protocol analyzer with a rich feature set. WiOpsy leverages and extends the feature set of Wireshark UI along with a robust Intelligraphics' sniffer stack including WLAN driver/firmware.