Dual-Band Mini PCIe Qualcomm Module
Featured Product from Intelligraphics, Inc.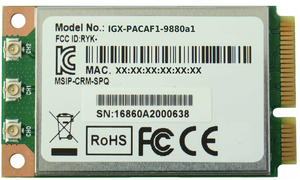 IGX-PACAF1-9880a1 is a IEEE 802.11ac wireless adapter that operates in 2.4GHz and 5 GHz bands, available in PCIe mini card form factor. Featuring QCA9880 chipset, the IGX-PACAF1-9880a1 dramatically increases the overall throughput up to 1.3Gbps with 3 x 3 MIMO technique. Leveraging the revolutionary 11ac technology, IGX-PACAF1-9880a1 sets a new benchmark in throughput and range, making it ideal for consumer and enterprise applications, such as video, voice and data transmission. The IGX-PACAF1-9880a1 is backward compatible with 802.11a/n and fully supports industry standards compliant security.
Suitable Applications
Applications include medical devices, security systems, industrial, PoS, digital signs, Access Point, Gateway, Medical equipment, Gaming machines, handheld devices, Robotic, and many more.
Click here to learn more about key features, specifications, and to download the product brochure.