Half Mini PCIe Qualcomm WLAN/Bluetooth Module
Featured Product from Intelligraphics, Inc.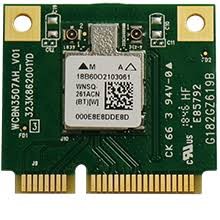 IGX-PACAH1-6174a1-BT is a single-die wireless local area network (WLAN) and Bluetooth combo solution to support2x2 multi-user multiple input, multiple output (MU-MIMO) with two spatial streams IEEE802.11 ac/abgn WLAN standards and Bluetooth 4.2+HS, designed to deliver superior integration of WLAN/Bluetooth and low energy technology.
Suitable Applications
Applications include medical devices, security systems, industrial PC, robots, vedio streaming, PoS, digital signs, gaming machine, set-top/net-top box, Medical equipment, tablet PC's, handheld devices, thin client devices, notebook computer and many more.
Click here to learn more about key features, specifications, and to download the product brochure.