Intelligraphics Advanced WiFi Module For Medicine
Featured Product from Intelligraphics, Inc.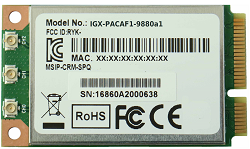 New Intelligraphics Wi-Fi Module with Advanced Roaming Software Accelerates Qualcomm® Chipset Connectivity For Medical Applications
Medical device manufactures are looking for Wi-Fi solutions that deliver robust connectivity, tight security, and flexibility. The IGX-PACAF1-9880a1 Wi-Fi Module featuring the Qualcomm QCA 9880 chipset and Intelligraphics Advanced Roaming Wi-Fi drivers allow medical devices including infusion pumps, heart monitoring, glucose monitoring, and wearable devices for home healthcare to scan and connect to an access point (AP) within milliseconds.
The IGX-PACAF1-9880a1 Wi-Fi Module is an 802.11ac Dual-Band 3Tx3R Wi-Fi Mini PCIe Module
An IEEE 802.11ac wireless adapter, the IGX-PACAF1-9880a1 operates in 2.4GHz and 5GHz bands, and is available in PCIe mini card form factor. It features the QCA9880 chipset that dramatically increases overall throughput up to 1.3Gbps with 3×3 MIMO technology. Leveraging revolutionary 11ac, this module sets a new benchmark in throughput and range, making it ideal for medical applications. It is backward compatible with 802.11a/n and fully supports industry standard compliant security.
Medical Devices Require Constant Connectivity
Wireless devices must be able to disconnect from the current access point (AP) and very quickly reconnect to another AP without dropping mission-critical data.
• In large dynamic environments like medical facilities, wireless networks continuously analyze the radio frequency (RF) environment
• Radio management software automatically adjusts AP configurations, causing devices to reconnect to another AP
• Medical devices, both mobile and stationary, require persistent connectivity
• The device must "roam", which includes scanning and locating another AP to establish connectivity
Helping Mission-Critical Medical Applications Stay Connected
Advanced Roaming from Intelligraphics extends the enormous benefits and flexibility of Qualcomm's Wi-Fi technology, enabling enterprises to maintain persistent connectivity of their mobility-driven assets with key application, database, and network infrastructure. Hospitals can track, manage, and analyze the state of critical assets in real-time so they can make life saving decisions, faster, while continuously improving efficiencies and reducing costs.
Decision Making Logic for Faster More Reliable Connections
Intelligraphics Advanced Roaming software uses proprietary scanning algorithms and decision-making logic to accelerate Qualcomm's 9880 chip connection speeds, resulting in significant enhancements to mobile asset uptime and availability. IGX wireless drivers and firmware provide fast, seamless roaming along with enterprise-class security to unleash the power of Qualcomm® chips in a unified solution. They deliver the optimal wireless connectivity for improving visibility and control over mobile medical assets, expanding robotic usage, boosting reliability of measurement and test equipment, and streamlining logistics operations.
Intelligraphics, a charter member of the Qualcomm® Authorized Design Center (ADC) program, provides customers the peace of mind and proactive support they need to quickly evaluate, design, and optimize Qualcomm®-based Wi-Fi solutions. Built with the elasticity that today's and tomorrow's wireless applications demand, Intelligraphics delivers Wi-Fi Modules, optimized device drivers and firmware that supports multiple operating systems giving users a wide range of options for the most demanding medical, industrial, machine-to-machine (M2M), and IoT applications.