QCA4010 Single Band WiFi IoT Module
Featured Product from Intelligraphics, Inc.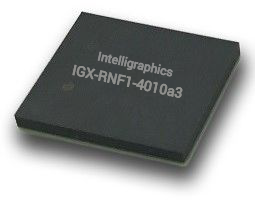 The IGX-RNF1-4010a3 is a single band 1×1 802.11 b/g/n device optimized for low-power embedded applications with single-stream capability for both Tx and Rx. It has an integrated network processor with a large set of TCP/IP with IPv4/IPv6-based services. These services can be accessed via a serial SPI link or by a UART link connected to an external host CPU.
Key Features
IEEE Standard Supports 802.11b, 802.11g and 802.11n.
Supports channel width of 20MHz for 2.4GHz
Supports SPI or UART interface for WLAN
Single-stream IEEE 802.11n support for 20MHz channel provide PHY layer rates up to 65Mbps.
Off the Shelf solutions available for various use-cases
Supports for Industrial IoT, Smart Home, Sensor Network
Supporting OS: ThreadX RTOS
Software Specifications

Standards

802.11b; 802.11g; 802.11n, 802.11d, 802.11h

STA and SoftAP Mode

11n Features: STBC, LDPC, MLD, MRC, Short GI, AMPDU Rx and Tx aggregation, AMSDU Rx

Driver Support

ThreadX RTOS

Security

WEP, WPA-PSK, WPA2-PSK, WPS
Enterprise IEEE 802.1x EAP-TLS

Network Services Support

TCP, UDP, DHCP client/server, BSD Socket, SSL
DNS client/server, SNTP, CoAP Client/server
HTTP Client/Server, MQTT Client, SSDP, mDNS, IGMP v1/v2

Supported IoT Frameworks


Apple HomeKit R8 (self-certified)
Amazon Web Services (AWS) IoT v2.1.1
Microsoft Azure IoT v1.1.19
OCF 1.3/2.0
Weave/libiota v1.1


SDK Features

Concurrent demo SCC/MCC (SoftAP + STA)
Dynamic Rx diversity (per packet)
Early Beacon Termination, Low power listen
Support for Command line shell
OTA firmware upgrade
Fail-safe firmware upgrade
Secure Storage
JSON parser
Support for Green Tx, Store-Recall (Suspend/Resume)
Wireless Repeater
Static Rx diversity/Tx diversity

Platforms Supported

SP240/SP241 platform, hostless operation
SP240/SP242 platform, hostless operation
RB01/RB02 platform, hostless operation
RB01/RB04 platform, hostless operation

Hardware Specifications

Standard

IEEE 802.11b; 802.11g; 802.11n


Main Chipset

MAC/ Baseband/ RF: Qualcomm QCA4010

Host Interface


SPI slave x 1 , SDIO 2.0 x1, debug UART x 1 High Speed UART x 2 (up to 3Mbps)
I2C master x 1 , I2C Slave x 1
I2S x 1, PWM x 6, ADC x 4, USB2.0 x 1


Data Rate

802.11b: 11, 5.5, 2, 1Mbps
802.11g: 54, 48, 36, 24, 18, 12, 9, 6Mbps
802.11n: MCS 0 ~ 7

Media Access Control

CSMA/CA with ACK

Modulation Technique

802.11b: CCK, DQPSK, DBPSK
802.11g: 64QAM, 16QAM, QPSK, BPSK
802.11n: 64QAM, 16QAM, QPSK, BPSK


Network Architecture

Ad-hoc mode (Peer-to-Peer)
Infrastructure mode

Operation Channel

2.4GHz:
11: (Ch. 1-11) – United States
13: (Ch. 1-13) – Europe
14: (Ch. 1-14) – Japan

Frequency Range (2.4 & 5GHz)

802.11bg: 2.412 ~ 2.462 GHz

Transmit Output
Power – 1×1
(Tolerance: ± 1.5dBm)

802.11b:
19dBm
802.11g:
16dBm ~54Mbps
20dBm ~6Mbps
802.11n:
17dBm MCS7 HT20
17dBm MCS7 HT40

Receiver Sensitivity

802.11b: (IEEE Standard <-76dBm)
802.11g:(IEEE Standard <-65dBm)
802.11n:
20MHz (IEEE Standard <-64dBm)
40MHz (IEEE Standard <-61dBm)

Security

WPA, WPA2, WPS, WEP 64/128, IEEE 802.11x, IEEE 802.11i

Operating Voltage

3.3V ±10% I/O supply voltage

OS Supported

ThreadX RTOS

Antenna Type

Printed Antenna, MHF RF connector(optional)