QCA4020 Dual Band WiFi & BT IoT Module
Featured Product from Intelligraphics, Inc.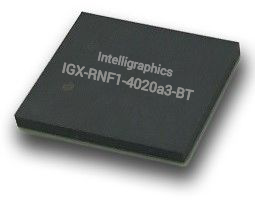 Ultra Small 802.11n Dual-Band 1Tx1R Wireless + Bluetooth v5.0 + Zigbee (15.4) IoT Module
The IGX-RNF1-4020a3-BT module provides a highly-integrated and flexible platform for developing and evaluating products and applications based on QCA4020 SoC. IGX-RNF1-4020a3-BT module. It can be either used with a software development kit or incorporated into OEM products to enable rapid deployment of Wi-Fi connected system.
Key Features
IEEE Standard Supports, 802.11a, 802.11b, 802.11g, 802.11n, and single-stream 1×1.
Supports 20MHz channel width in 2.4 and 5GHz.
Operate at ISM frequency Band (2.4/5GHz).
Bluetooth Low Energy (BLE) compliant to the SIG v5.0 specification.
Green TX power-saving mode and Low-power listen mode.
Rich set of GPIOs and interface: I2C, HSUART, UART, SPI, QSPI, SDIO2.0, I2S, JTAG, Sensor ADC (up to 8 channels, 12bit, 1Mbps), up to 8 PWM optimized for LED lighting applications.
Advanced power management scheme to minimize power dissipation for each use case.
Supports 32Mb NOR flash memory.
Supports on board printed Antenna.
Supporting OS: ThreadX RTOS and FreeRTOS
Software Specifications

Standards

802.11a;802.11b; 802.11g; 802.11n, 802.11d, 802.11h , 802.11v

STA, SoftAP Mode, WiFi-Direct, IBSS

11n Features: STBC, LDPC, MLD, MRC, Short GI, AMPDU Rx
and Tx aggregation, AMSDU Rx

Driver Support

ThreadX RTOS and FreeRTOS

Security

WEP, WPA-PSK, WPA2-PSK, WPS
Enterprise IEEE 802.1x EAP-TLS

Network Services Support

TCP, UDP, DHCP client/server, BSD Socket, SSL
DNS client/server, SNTP, CoAP Client/server, websocket
HTTP Client/Server, MQTT Client, SSDP, mDNS, IGMP v1/v2

Supported IoT Frameworks


Amazon Web Services (AWS) IoT
Microsoft Azure IoT


SDK Features

Concurrent demo SCC/MCC (SoftAP + STA)
Concurrent mode: Wi-Fi direct client + Legacy Station
Sniffer mode with optional filters
Low power listen, Preferred Network Offload (PNO)
Network solicitation offload
ARP Offload
Wake on Wireless (WoW)
OTA firmware upgrade
Secure Storage and Secure Boot
Support for Green Tx, Store-Recall (Suspend/Resume)
Zigbee Function

Standard

802.15.4


Modulation Scheme

O-QPSK

Transmit Output Power

Typical: 0dBm


Receiver Sensitivity

-101dBm

Bluetooth Function

Main Chipset

Qualcomm QCA4020

Standard

BT v5.0


Bus Interface

UART

Data Rate

1Mbps, 2Mbps

Modulation Scheme

802.11bg: GFSK

Frequency Range
Power – 1×1
(Tolerance: ± 1.5dBm)

2.400 ~ 2.4835GHz

Operating Channel

0 ~ 39

Transmit Output Power

+4 ≤ Output Power ≤ +2dBm; Class 2 Device

Receiver Sensitivity

< 0.1% BLE 1M at -93dBm

Wi-Fi Function

Standard

IEEE 802.11a; 802.11b; 802.11g; 802.11n

Main Chipset

Qualcomm QCA4020

Host Interface


UART


Data Rate

802.11a: 54, 48, 36, 24, 18, 12, 9, 6Mbps
802.11b: 11, 5.5, 2, 1Mbps
802.11g: 54, 48, 36, 24, 18, 12, 9, 6Mbps
802.11n: MCS 0 ~ 7 for HT20

Media Access Control

CSMA/CA with ACK

Modulation Technique


802.11a: 64QAM, 16QAM, QPSK, BPSK
802.11b: CCK, DQPSK, DBPSK
802.11g: 64QAM, 16QAM, QPSK, BPSK
802.11n: 64QAM, 16QAM, QPSK, BPSK


Network Architecture

Infrastructure mode

Operation Channel

2.4GHz:
11: (Ch. 1-11) – United States
13: (Ch. 1-13) – Europe
14: (Ch. 1-14) – Japan
5GHz:
21: USA
19: EU
8: Japan

Frequency Range (2.4 & 5GHz)

802.11bg: 2.400 ~ 2.4835GHz
802.11a: 5.15 ~ 5.85GHz

Transmit Output
Power – single chain@ant;Tolerance:

± 2dBm @ 2.4GHz; ±2.5dBm @ 5GHz

Security

WPA, WPA2, WEP 64bit & 128bit, IEEE 802.1X, IEEE 802.11i

Common Function

Operating Voltage

3.3 V ± 5% I/O supply voltage

Power Consumption

MODE
AVERAGE
PEAK
2.4G
5G
2.4G
5G
TX
315mA
360mA
472mA
RX
302mA
360mA
540mA
Standby
70mA

Antenna Type

Printed Antenna for WiFi/BT/15.4