USB Module Based on Qualcomm QCA9377-7 Chipset
Featured Product from Intelligraphics, Inc.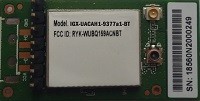 IGX-UACAH1-9377a1-BT is an 802.11ac/abgn 2.4GHz+5GHz USB module based on Qualcomm QCA9377-7 chipset. It supports 1T1R with RX diversity (Support Wi-Fi) technology, which runs up to 433Mbps, provides higher throughput performance, reliability and range. The IGX-UACAH1-9377a1-BT supports 20/40/80MHz and 256-QAM to maximize bandwidth efficiency.
Adopting the latest 802.11ac solution, IGX-UACAH1-9377a1-BT is ideal for high throughput networking and multimedia applications that requires better Wi-Fi performance. IGX-UACAH1-9377a1-BT is a single-die wireless local area network (WLAN) to support 1×1 802.11ac/abgn WLAN standards, designed to deliver superior integration of WLAN and low-energy technology.
Suitable Application
Applications include medical devices, security systems, 3D printer, vedio streaming, PoS, digital signs, gaming machine, Medical equipment, industrial tablet PC's, handheld devices, thin client devices, and many more.
Key Features
Chipsets : Qualcomm Atheros QCA9377-7
Antenna : PCB Printed Ant. or 1xU.FL connector, 1T1R
Data Rates : Allows link speeds up to 433Mbps
Support: Win7/8.1/10
Click here to learn more about key features, specifications, and to download the product brochure.