Ultra Small 802.11n Dual-Band Wi-Fi/BT 4.0 Module
Featured Product from Intelligraphics, Inc.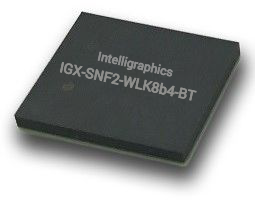 The IGX-SNF2-WLK8b4-BT is ideally suited for enabling wireless connectivity in automotive content sharing and viewing from smart phones and tablets-to-in-car systems, easy pairing of devices, navigation, and even wire replacement to sensors on tires and other equipment.The IGX-SNF2-WLK8b4-BT module enables manufacturers to easily add fully integrated 2.4 & 5GHz versions of WiFi and dual-mode BT 4.1 (BLE) solutions to embedded applications. The WiLink 8 modules are perfect for power-optimized designs for home and building automation, smart energy, gateways, wireless audio, enterprise, wearable's and many more industrial and Internet of Things (IoT) applications.
Key Features
A single Wi-Fi driver that acts as either a sniffer/injector or as a stand-alone driver.
IEEE Standards Support, 802.11a, 802.11b, 802.11g and 802.11n.
Supports channel width of 20MHz for 2.4GHz and 5GHz bands.
Supports SDIO interface for WLAN and UART Interface for BT.
Supports BT version: 4.0, BLE
Single-stream IEEE 802.11n support for 20MHz channel provide PHY layer rates up to 65Mbps.
Included in Module: On-board reference clock, RF switches and Diplexer to feed a common RF port
BT coexistence
Supports "Stone Street One" BT/BLE stack
Supporting OS: WinCE 5, WinCE 6, WEC7, WEC2013, Win10IoT, Linux, Android
Off the Shelf solutions available for various use-cases
Supports Industrial, IoT, Smart Home, Sensor Network, Gateway
Software Specifications

Standards

IEEE 802.11a; 802.11b; 802.11g; 802.11n

Driver Support

Windows10 IoT, WinCE5, WinCE6, WEC7, WEC2013, Linux, Android

Security

64/128-bits WEP,
WPA, WPA2, IEEE 802.1x,
EAP-FAST, PEAPv1/EAP-GTC,
PEAPv0/EAP-MSCHAPv2, PEAP-TLS,
LEAP, EAP-TLS, EAP-TTLS

Roaming & Scanning
(All supported OS, except Win10IoT)

Intelligraphics Advanced Roaming

Scanning & Roaming optimizations for Faster Handoffs
Roaming triggers
Channel List configuration
Infrastructure agnostic Roaming

PMK-Caching, Opportunistic PMK-Caching (OKC)
Easy-to-use configuration GUI

Debug Diagnostics

Support for Debug message zones.
Dynamic control of debug message zones to optimize log capture.

Sniffer and Injector (For Linux/Android OS)

Packet Sniffer and packet injector feature has following functionality


It is a single Wi-Fi driver that acts as either a sniffer/injector or as a stand-alone driver.
It has clear API interface to configure and control the Sniffer/Injector operations.
Support for Infrastructure specific metadata on per-packet basis.
Records captured packets with standard RadioTap header support (in .pcap format).
API support to accept or reject error frames during capture.
Decodes 802.11 frames with user input for encryption type, keys and session variables.
Full-featured 802.11 Wi-Fi packet Injection support.
Zero-backoff Injector feature

Advanced Features

Soft AP
P2P
Support for 802.11r Fast Transition
Support for 802.11k RRM (Radio Resource Management)
Support for 802.11v BTM (BSS Transition Management)


Certifications
(All supported OS, except Win10IoT)


Cisco CCX Cisco Compatible Extensions (CCXv4) and CCKM
WiFi Alliance

Platforms Supported


TI OMAP 4 (WinCE OS, Linux, Android)
Freescale iMX6 (Linux)
TI Sitara AM335x (Linux)
Compulab iMx7 (Win10 IoT)
Solidrun iMx6 (Win10 IoT)
Hardware Specifications

Standard

IEEE 802.11a; 802.11b; 802.11g; 802.11n BT 4.1 BR/EDR/LE

Host Interface


Wi-Fi: SDIO
BT: UART

Data Rate

Wi-Fi:
11, 54, 65Mbps

BT:
3Mbps

Modulation Technique

DSSS / CCK / OFDM

Network Architecture

AP and STA dual mode

Transmit Output Power

2.4GHz :
15dBm @ 11Mbps
11.5dBm @ 54Mbps
10.5dBm @ 65Mpbs
5GHz:
12dBm @ 54Mpb
10.5dBm @ 65Mbps

Frequency Range (2.4 & 5GHz)

2400 ~ 5825MHz

Receiver Sensitivity

2.4GHz :
-87dBm @ 11Mbps
-73dBM @ 54Mbps
71dBm @ 65Mbps
5GHz:
-71dBm @ 54Mbps
-70dBm @ 65Mbps

Transmit Mode Current

2.4GHz :
210mA @ 11Mbps
135mA @ 54Mbps
145mA @ 65Mbps
5GHz:
180mA @ 54Mbps
195mA @ 65Mbps

Receive Mode Current


2.4GHz :
50mA @ 11Mbps
52mA @ 54Mbps
57mA @ 65Mbps
5GHz:
60mA @ 54Mbps
65mA @ 65Mbps


Supply Voltage (Vdc)

3.0 to 4.3

Interface Voltage (Vdc for VIO)

1.62 to 1.92

Operating Temperature Range

-20 to 70°C (-68 to 158°F)

Antenna Type

External

Power Class

Class 1

Dimension (mm)

9.9 x 8.8 x 1.3 mm

System Clock

Internal X'tal

Mounting Type

SMT

Package

LGA