3/8''NPT optical liquid level sensor
Featured Product from Intellisense Microelectronics Ltd.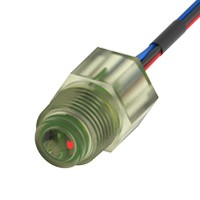 The optical liquid level switch consists of an infrared LED and a receiver. In air, the light beam from the infrared LED is reflected back into the receiver. When rising liquid touches the tip of the sensor, the light is refracted away from the device, causing little light to return to the receiver. Sensing this change, the sensor outputs a signal to activate or stop other devices. Engineers usually use the sensor to detect the presence of liquid or monitor the leakage. This series is easy to install and do not need adjustment or alignment. Polysulfone housing improves high chemical resistance to most acids and bases.
High Performance ASIC based compact sensor
Accuracy: ± 1mm
Low power : 5mA with output low
Temperature range: - 40°C - 100°C
Build in 100ms Power On Delay, Self-Recover Short Circuit, Reverse Polarity, Over Voltage Protection
High noise immunity to DC light with 1/10 duty cycle, 20us pulse modulated light source and CDS signal process technology
Highly chemical resistance material: Polysulfone or Trogamid
Water Proof IP67
Light on or dark on switchable
Bright LED state indicator