Compact Slot Photoelectric Sensor
Featured Product from Intellisense Microelectronics Ltd.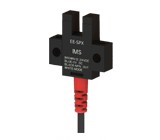 The EE-SPX series is a ultra-small photoelectric sensor with a slot of 5mm. They are can be used as a location switch, such as elevator detection. Because of the small slot, they also can be used for liquid drop detection.
High performance ASIC based sensor with advanced modulation scheme and built in amplifier
Excellent noise immunity to DC light with modulated light source and CDS signal process technology
Ultra-small slot structure with location holes for easy installation
Light on or dark on switchable
Fast response time: 1ms
5mm slot width, can replace the same model of Omron