Compact and Reliable Optical Liquid Level Switch
Featured Product from Intellisense Microelectronics Ltd.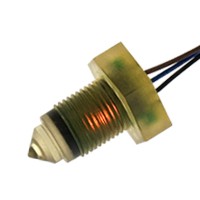 Are you looking for a reliable and durable sensor for an industrial point-level sensing application? The optical liquid level sensor may be the answer to your problem. The optical liquid level sensors are sealed with potting glue, meaning they do not have moving parts to cause unreliability. They use infrared light and have higher accuracy than traditional float switches.
The optical liquid level sensors detect the presence or absence of liquid. They contain an infrared LED and a photoelectric receiver. The light emitted by the LED is directed into the prism at the top of the sensor. If there is no liquid, the light emitted from the LED can be reflected directly from the prism to the receiver. When the liquid is immersed in the prism, the light is refracted into the liquid, so that the receiver can not receive or can only receive a small amount of light. Sensing this change, the receiver actuates electronic switching within the unit to operate an external alarm or control circuit.
The optical liquid level sensor is compact, low cost, and reliable. They are suitable for most liquids, such as water, oil, soft drink, and so on. They also can be used in high temperature environment(≤100 °C).