Cross Beam Light Curtain for Counting
Featured Product from Intellisense Microelectronics Ltd.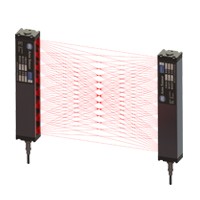 Light curtain consists of two sensors that are placed in opposite side. When an object passes between the two units, the effective beam is interrupted and the light curtain is triggered. People usually use light curtain to manage manufacturing processes or protect worker from harm. Most products adopt through-beam method to achieve these functions. Compared common sensors, IMS utilizes cross beam technology to improve the resolution of light curtain, which can detect objects down to φ7mm. It is the ideal selection for irregular parts or utral-thin object counting, such as flange, paper etc.
Some features of the cross beam light curtain include:
Fast Response time, down to 1ms
Suitable for Irregular or ultra-thin object counting
No-blind testing across the whole sensing area
Sensing area: 100mmx100mm to 150mmx1000mm
For sensing large object over large area
Unique simultaneous cross beams to improve resolution