E3FA Photoelectric Sensor with Adjustable Distance
Featured Product from Intellisense Microelectronics Ltd.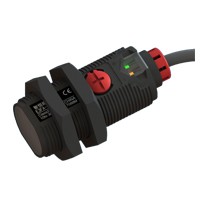 IMS's cylindrical E3FA series of photoelectric sensor is based on our Modulated Sensor ASIC, which ensure sensor's performance to high noise immunity. This sensor features a compact body with M18 thread and is easy and quick to install. The E3FA series consists of a diffuse reflective version as well as a retro-reflective version, both of the two types are available in visible red LED and infrared LED. The adjustable sensing distance is up to 2m in retro-reflective version, enabling the sensor to be used in wider application. Bright operation and stability indicators make users easily to check the working status of the sensor.
Some features of the E3FA include:
Distance adjustable using potentiometer
Diffuse sensing distance up to 0.5m, retro-reflective sensing distance up to 2m
Switch light on or dark on mode by control wires
Visible super bright red light for easy alignment
Power supply reverse polarity protection, output short-circuit protection, output reverse polarity protection