E3Z Mini-Square Photoelectric Sensor
Featured Product from Intellisense Microelectronics Ltd.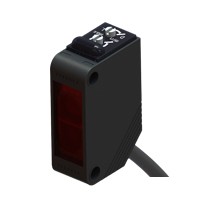 The E3Z series photoelectric sensor features high performance modulated sensor ASIC to ensure high noise immunity. Light on and dark on operation mode is switchable with knob. Built-in power on delay prevent false output as the sensor powering up. Sensitivity adjustment function allows the sensor to be used in more cases. The operation and stability indicators are convenient for users to observe working states.
Product features:
Excellent noise immunity and minimal influence from ambient light
Light on or dark on switchable
NPN or PNP output models available
Sensitivity adjustment
Built in power on delay prevent false output as sensor powering up
High response time: 1ms
Visible red LED light for easy alignment
Indicator lights: operation and stability indicator
Reversed voltage protection, output short-circuit protection