Frame light barrier EX6080
Featured Product from Intellisense Microelectronics Ltd.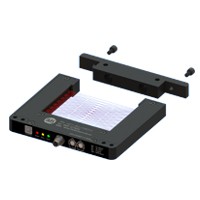 Frame light barriers are ideal for sensing small parts in the active window. They identify objects which pass with a high speed through the window (dynamic mode) or objects which stay in the window (static mode). They are widely used in packing machine to count granules, such as tablets, nuts, seeds and so on.
The EX6080 is an upgraded version of frame light curtain CX6080, one of its barriers can be departed for easy installation of the sensor.
Resolution: 1.5mm or 5mm
Response time: 1ms
Static and dynamic evaluation
Adjustable impulse lengthening
Various sensing area
M8 connector
Solidmetal housing