High speed through beam light curtain
Featured Product from Intellisense Microelectronics Ltd.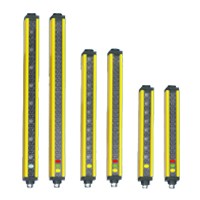 IMS light curtain use its own proprietary light curtain ASIC to ensure high noise immunity. The light barrier has a series of circuit protection, such as power on delay, power supply reverse polarity protection, output short-circuit protection and output reverse polarity protection. When the light beam is insufficient or dust accumulation, the sensor will automatically give an alarm to remind the staff to do cleaning and maintenance before the false trigger.
Features:
Built-in amplifier with high frequency modulated light source, synchronized scanning to improve EMC
Ambient light rejection: sun light max. 50, 000lux, incandescent lamp max. 5, 000lux
Alarm output for marginal operational state to improve safety
Scan time: 200us per channel with 4 counts each channel
Programmable Light curtain with touch screen beam definition available
Light curtain with simultaneous output available, response time 200us
Selective blocking channel enables selected objects undetected in the sensing area