Liquid Level Sensor with High Chemical Resistance
Featured Product from Intellisense Microelectronics Ltd.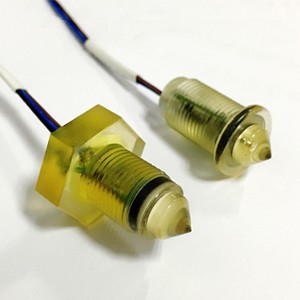 The LLS.DTM12 series optical liquid level switch is a low cost single point level sensor designed for semitransparent, clear, and low viscosity liquids. The sensor is available in Trogamid or Polysulfone. The Polysulfone version with high chemical resistance is suitable for most acids and bases. The operation temperature is range from -40 ° C to 100 ° C, making the sensor has a wider application in industrial field. The switch is also available in 3-wire or 4-wire, NPN or PNP output, light on or dark on mode, providing users with more flexible choices.
Features:
1mm liquid level detecting precision
High performance ASIC based compact sensor
Supply voltage 10 to 30 VDC
Fast response time down to 1ms
Water Proof IP67
Compact design, no moving components
Easy installation
Compatible with most liquids
Build in 100ms power on delay, power supply reverse polarity protection, output short-circuit protection, output reverse polarity protection