Photoelectric Sensor for Transparent Objects
Featured Product from Intellisense Microelectronics Ltd.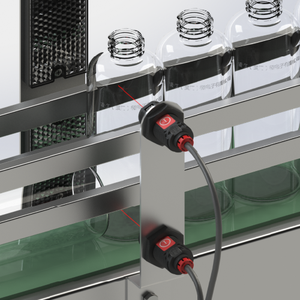 With the development of the industry 4.0, factories are constantly upgrading their automation equipment, which create a huge market for sensors. In many applications, proximity sensors can do a good job of supervising the producing process. However, there are many transparent objects need to be detected in food industry, such as glass bottles, soft drink bottles, or plastic wrap etc. This is a big challenge for general sensors because light can pass through these items. So we have to find another different type of sensor.
In this situation, we highly recommend the E3TA-B series of photoelectric sensor from Intellisense Microelectronics Ltd. This series is a retro-reflective type sensor consisting of a sensor and a reflector. The emitter and receiver are placed in one unit simplifying the process of the wiring and installation. The sensor can detect all kinds of clear objects in different thickness, ranging from wine bottles to transparent film. In addition, even if the detected objects rotate or move arbitrarily in the sensing area, it also owns reliable output without false trigger. Meanwhile, we adopt teach-in technology, which is easier for users to adjust sensing distance they wanted. So the sensor is also user-friendly.
Go to learn more specifications about E3TA-B.