Ring Inductive Proximity Sensor
Featured Product from Intellisense Microelectronics Ltd.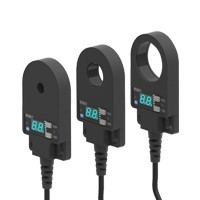 Inductive ring sensor senses the change of inductance when metallic objects pass through the ring . IMS proximity inductive sensors have four kinds of sizes to meet different applications. They are especially designed for detect small metallic objects, such as wire, nuts, screws, washers etc pass through the ring(dynamic mode). It can be also used to detect the fracture of continuous metal wire inside the ring(static mode).
Product features:
High performance inductive sensor ASIC
Adjustable sensitivity
Adjustable on delay, off delay , one shot time
Settable dynamic mode and statics mode
Suitable for metal objects detection
Various ring diameter of 5mm, 10mm, 18mm and 30mm for different sensitivity requirement, minimum detectable object as small as 7mmin diameter(copper wire)
LED function indicator
Only 12mm in thickness, meet the high-speed blanking requirement
Digital display
Power on delay, reverse polarity protection, self-recover short circuit protection, output reverse polarity protection