Slot Photoelectric Sensor for Harsh Environment
Featured Product from Intellisense Microelectronics Ltd.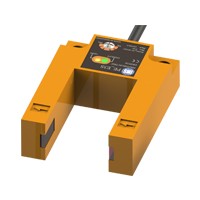 IMS's E3S30 series is a photoelectric sensor with a slot of 30mm. It features a strong metal housing, ensuring that it can operate stably in harsh environment. The u-shaped photoelectric sensor also has a high-speed response time down to 0.25ms and excellent noise immunity to ambient light.
High performance ASIC based sensor with advanced modulation scheme and built in digital filter
The emitter and receiver are placed in one U-shape case, simplify the process of installation and alignment
Switchable light on or dark on by control wire
Suitable for tool fracture detection, gear speed measurement, label detection etc
Fast response time: 1ms or 0.25ms
Bright operation indicator and stability indicator
Reverse polarity protection, output short-circuit protection, output reverse polarity protection
Detect objects down to φ1mm
Sensitivity adjustable