Stainless steel optical liquid level sensor
Featured Product from Intellisense Microelectronics Ltd.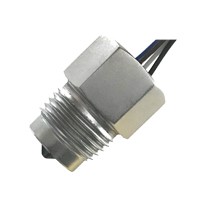 The optical liquid level sensor is used to monitor the level of liquids, such as water, oil, drink etc. The LLS.ELS1150 is an enhanced electro-optical level switch from IMS level sensor. This series utilize IMS advanced photoelectric sensor ASICs to achieve a high-speed and stable sensor with no moving parts.
Equipped with stainless steel housing, the sensor has an excellent performance in harsh environment. High temperature version is available up to 100°C. There is also a choice of two operation modes, two output types and four thread types.
Features:
Accuracy ±1 mm
Protection degree: IP67
NPN or PNP output
light on or dark on switchable
Supply voltage 10 to 30 VDC
Fast response time: 1ms
Compact design, no moving components
Easy installation
Compatible with most liquids
Power on delay, power supply reverse polarity protection, output short-circuit protection, output reverse polarity protection