730 Series Rack Mount Power Supplies
Product Announcement from Interact Power, Inc.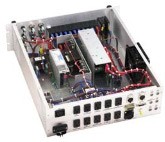 The 730 Series Rack Mount Power Supplies offers a line of equipment with great flexibility in both DC voltage and current available. The series converts AC to DC power. Several different power supplies can be in one enclosure, each with its own output. These units can provide all the basic power monitoring and control functions.
Many choices and options are available;
Choice of different and multiple DC voltage output power
Hardwire inputs, MS connector inputs, NEMA inputs, IEC inputs (contact factory)
Test Points on Front Panel
EMI Filter/transient protection, Remote Control
Fan for air circulation within the enclosure
Indicator ON/OFF lights, AMP meter, Volt meter
Painted Front Panel
The 730 series Rack Mount Power Supplies will operate at either 120VAC or 230VAC single phase input (3-phase is available contact factory) in a 19" rack mount unit that is 3 "U" (5 ¼") high and 16" deep.
---