Etching for Automotive Applications
Product Announcement from Interplex Industries, Inc.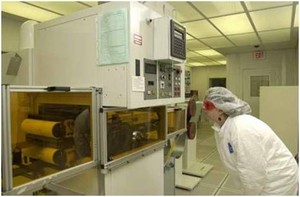 Interplex Etch Logic, an ISO/TS 16949-certified company, is considered by many to be the world's leading reel-to-reel chemical etcher. Located in Attleboro Massachusetts, Interplex Etch Logic has developed many new and innovative applications for automotive, telecom, connector, filtration and medical metal components. The company's proprietary reel-to-reel chemical etching process creates etched precision metal components with very close tolerances and a high level of repeatability and consistency, outperforming competing technologies such as panel etching.
Click to request more information about Chemical Etching
Reel-to-Reel Chemical Etching Feature and Hole Sizes:
Minimum Feature Size: 1.2x Material Thickness
Minimum Thickness: 0.0008" (0.0203 mm)
Tolerance: 10% of Material Thickness
Maximum Part Width: 8" (203 mm) wide
Maximum Part Length: 1500" (457 meters) long
Maximum Thickness: 0.0200" (0.508 mm)
*Metal Etching guidelines may vary by design
Alloys and Materials:
Alloy 42
Be Cu Alloys
Brass Alloys
Copper & Copper Alloys
Cupro-Nickel
Furukawa Eftec 64T
Invar
Kovar
Nickel 201
Nickel Alloys
Low Expansion Alloys
Magnetic Permeability Alloys
Monel
Phosphor Bronze
Spring Steel
Stainless Steel, 300 & 400
Location: East Attleboro, Massachussets
BENEFITS OF CONTINUOUS REEL-TO-REEL CHEMICAL ETCHING:
Continuous reel-to-reel chemical or photo etching has the ability to hold very tight tolerances for small feature sizes with a very high degree of repeatability and consistency.
The increased repeatability and consistency of reel-to-reel chemical metal etching significantly reduces the total cost of quality, especially in high reliability metal applications.
Customers can design burr-free, precision metal components with ultra fine pitches, intricate shapes and 3-D feature profiles using chemical or photo etching, which unavailable using traditional metal stamping processes.
Chemically etched metal parts can be produced in a high volume environment using photo masks, which reduces tooling and production costs, while improving time to market.
Reel-to-reel photo chemically etched parts can be presented to other automated manufacturing processes such as forming, plating, insert molding and assembly on a reel, further reducing total manufacturing costs.
---