Solderless Interconnects for Power Applications
Product Announcement from Interplex Industries, Inc.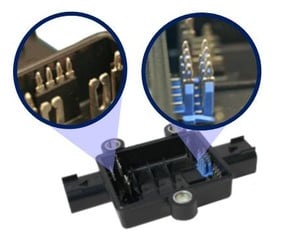 This product announcement is part of Interplex's series of Press-Fit Tech Bulletins focusing on the evolving requirements for high-current carrying capabilities in solderless press-fit applications.
Driven by the explosive growth of automotive electrical systems and many other industries using inverter and converter based power modules, press-fit technologies have become the preferred alternative for delivering highly reliable, solderless interconnect solutions. Press-fit components have already been qualified for use in a wide range of automotive applications across the full spectrum of operating conditions, from under-hood, engine-mounted deployments to inside the passenger cab. Driven by the industry's accelerating movement toward "electrification" of virtually all automotive applications, the use of press-fit interconnects is growing rapidly.
As discussed in the Press-Fit Tech Bulletin below, the solderless technology offers an ideal solution for integrating large power components such as capacitors into complex control circuits. Using press-fit interfaces helps to optimize production efficiency and also can assist designs to help overcome the thermal dissipation and CTE mismatch issues that can be problematic for conventional soldering of these devices. The auto industry's adoption of press-fit for power designs is also driving an evolution toward use of press-fit by power module manufacturers serving other industries.
Click here to read the first Press-fit High-power Tech Bulletin.
---