How to Create a Solderless Card-Edge Connection
Product Announcement from Interplex Industries, Inc.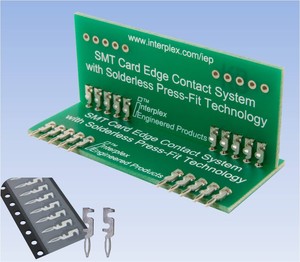 Interplex's SMT Press-Fit product is a discrete pick and place SMT component that creates a solderless edge card interconnection for daughter board applications. These SMT Card-Edge contacts can be placed on a daughter card using standard high-speed pick and place surface mount equipment. The Surface Mount Device (SMD) solder interface utilizes pin in paste through-hole technology as well as recessed channels for improved solder distribution which allows for high mechanical strength at the point of connection.

The SMT Card Edge Contact System is designed for standard 1.6 mm (0.062") thick printed circuit boards (PCB's) but is compatible with additional PCB thicknesses. The center minimum PCB spacing is 3.2 mm (0.126").

The product features Interplex's proven and tested 0.64 mm press-fit technology. It is packaged in a 16 mm x 4 mm pitch EIA tape on a 13" diameter plastic reel for compatibility to standard high-speed surface mount pick-and-place equipment. It is suitable for high-conductivity material, able to carry up to 15 amps per contact.
More about Interplex's Card-Edge Press-Fit Products:
Read the SMT Card-Edge Press-Fit Tech Bulletin.
Visit the Card-Edge Products web page.
Read the Card-Edge Brochure.
To have an Interplex Applications Engineer contact you, click here.
---