Accessory Power Strips/Power Distribution Units
Featured Product from Interpower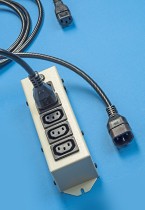 A key to success for a company trying to compete worldwide is to offer products that are easily adapted to the needs of global markets without requiring reconfiguration by the user. The ability to offer a product that can be used in many different countries can be a huge cost savings benefit to the company.
The accessory power distribution systems offered by Interpower allow companies to design for global markets.
One accessory socket strip—One socket strip provides multiple power outlets for connecting several pieces of equipment to a single source of electrical power.
Universal jumper cord sets—Global cord sets connect the accessory socket strip to the peripheral equipment.
One country-specific cord set­—One connection for the entire system to the electrical power source, minimizing the number of country-specific cord sets that need to be in inventory.
Production efficiencies—The main equipment components can be the same in the overall design. The only component that needs to change in the assembly is the cord set.
Cost savings—Price volume discounts are possible along with lower inventory.
Safety agency approvals—Interpower's Accessory Power Strips and Power Distribution Units have safety certifications which helps to ensure global acceptance.
Instead of having to make five different systems to export to five different countries, a company can design one system and then add a cord set with a country-specific plug. This allows the same system to be exported globally with cost-savings benefits.
By using IEC 60320 components within an Accessory Power Strip (APS), product designers can simplify power supply connections for electrical equipment. An advantage of the APS is that it makes it easier to build equipment that can be sold worldwide because different components work together in one system. This system consists of a socket strip (an inlet, circuit protection and four or more outlets), several jumper cords, and one country-specific cord set.
Accessory Power Strips can be useful in many applications, including medical and professional-quality industrial equipment. The Interpower APS is a high-quality, long-lasting product.
See the complete line of Accessory Power Strips available at Interpower.
Power Distribution Unit (PDU)
The Power Distribution Unit is a socket strip using IEC components in a case enclosure that is larger than an APS and fits into a 19-inch rack. It can be utilized wherever power needs to be supplied to multiple units of equipment.
The most common place to find a PDU is in an equipment rack. All of the components can be installed into one rack and work together as a specific unit. This rack is designed to hold different components of a system. Examples include a complete computer system (monitor, CPU, keyboard, and printer), test equipment, medical research equipment, and telephone equipment.
See the complete line of Power Distribution Units available at Interpower. For more information on either the APS or PDU, see www.interpower.com.