C16 and C18 Screw-Mount Inlets
Featured Product from Interpower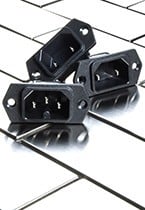 Interpower® is now manufacturing its own IEC 60320 C16 and C18 screw-mount inlets at its Iowa facility.
These screw-mount inlets are rated 250VAC 10A international and 250VAC 15A North American. They can be used in applications that require an IEC 60320 C16 inlet to connect to a C15 connector or a C18 inlet to connect to a C17 connector.
The C16 and C18 screw-mount inlets have QD and solder tab options. They carry VDE and cURus approvals and are RoHS compliant.
Recently, Interpower also introduced the C14 screw-mount inlets. All of these screw-mount inlets—C14, C16, and C18—fit the same panel cut-out.
Interpower has no minimum order or dollar requirements, offers same day shipping on in-stock products, and a 1-week U.S. manufacturing lead-time on non-stock Interpower products.
Free technical support is available along with value added and custom services. For more information, contact Customer Service at (800) 662-2290 or see the website at www.interpower.com.