Interpower International Power Source
Featured Product from Interpower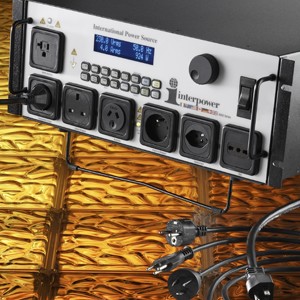 The Interpower® International Power Source is an AC power source used to verify your product design and for product testing. The unit can be used on a bench top or is rack mountable.
The Interpower® International Power Source provides a low-cost, convenient source of AC power for product design and product testing at various operating voltages and frequencies found around the world. The IPS will supply output voltages ranging from 10-276VAC at 47-450Hz. Sockets included on the front test panel are: Continental European, United Kingdom, 10A Australian, French/Belgian, 10A Swiss, 16A Italian, and a T-slot socket which will accept both the NEMA 5-20 plug and NEMA 5-15 plug.
Interface software and rental units are available.