Interquip SMCM-3225H crystal resonator
Featured Product from Interquip Electronics Co., Ltd.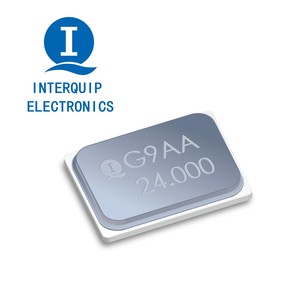 Environmental Friendly
SMCM32255H series is an environment friendly self-developed crystal resonator by Interquip that eliminated the electroplating process with more cost effective processes..
Direct replace and enjoy cost saving
The SMCM3225H SMD crystal resonator is pin to pin replacement to the SMCE3225 crystal resonator that dominates the market. It means not add on cost for PCB redesign and etc. Interquip offer SMCM3225H crystal resonator from 12Mhz up to 54Mhz that provides a low cost and win-win solution for the market.
Specifications:
Nominal Frequency: 12MHz ~ 54MHz
Frequency Tolerance, Ta=25°C ± 3°C: ±10ppm
Load Capacitance: 6pF to 12pF or specify
Operating Temperature: -20°C ~ +70°C, -20°C ~ +85°C or specify
Frequency Tolerance over Operating Temperature Range: ±20ppm or specify
Aging: ±3ppm/Year Max.
Application
Wearable device, Mobile phone, PC, Computer peripheral, STB, Home Appliance, Toy & Gadgets, Wireless Lan, WiFi, BLE, ARM/AMI, Industrial automation, POS & payment, RFID/NFC, Sensor & transmitter, DVR/NVR, IPC/CCD, Wearable Health, SoC & SIP