Ultra-Miniature 1.6x1.0mm 32.768KHz watch crystal
Featured Product from Interquip Electronics Co., Ltd.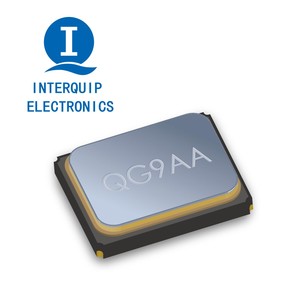 Measuring just 1.6 x 1.0mm and with a height of only 0.5mm, Interquip 32.768kHz SMLF-1610 watch crystal is ideal for applications where space on a PCB is at a premium. It is housed in a 2-pad ceramic package with an operating temperature range of -40 to +85 degrees C and a standard frequency stability coefficient of -0.03 ±0.01ppm/degrees C². Standard frequency tolerance is ±20ppm however ±10ppm can also be manufactured upon request whilst the load capacitance can be specified at 12.5pF, 9pF, 7pF or 6pF.
The SMLF-1610 is ideal for the many applications related to the Internet of Things (IoT) where accurate time keeping and non-volatile data storage is required via a Real Time Clock (RTC). These include battery management, Bluetooth, POS terminals, smart meters, wearable and Wi-Fi.
Specifications:
Nominal Frequency: 32.768KHz
Frequency Tolerance, Ta=25°C ± 3°C: ±20ppm
Load Capacitance: 5pF, 6pF, 7pF, 9pF, 12.5pF or specify
Operating Temperature: -20°C ~ +70°C, -40°C ~ +85°C
Equivalent Series Resistance (ESR): 90KΩ Max.
Aging: ±5ppm/Year Max.
Applications:
Internet of Things (IoT)
Battery management
Bluetooth
POS terminals
Smart meters
Wearable and Wi-Fi