Broadband Plate Beamsplitters
Featured Product from Intrinsic Crystal Technology Co., Ltd. (ICC)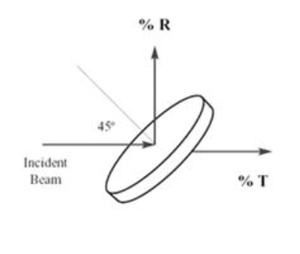 Plate beamsplliters are available with nominal split ratios of 30/70, 50/50, and 70/30. These ratios assume that the incoming beam is randomly or circularly polarized with equal parts of s and p polarization.
If the beam is randomly polarized, the split beams will be linearly polarized (weakly). If the incoming beam is circularly polarized, the split beams will be elliptically polarized.
Standard Specifications:

Optical Material:
Diameter Tolerance:
Surface Quality:
Surface Flatness:
Beam Deviation:
Nominal T/R Ratio:

Clear Aperture:
Bevel:
Coating:
1st Surface:

2nd Surface:

Available Wavelength:

BK7 grade A optical glass
±0.2mm
60-40 scratch and dig
lambda/4 at 632.8nm
<10 arc minutes
50/50 ±5% for average polarization
T=(Ts+Tp)/2,R=(Rs+Rp)/2
>85%
<0.25mm X 45°
All-dielectric partial reflection coating for 45°, surface marked with a dot.
Antireflection coated for <1.0% reflectance for 45°
Visible and Near Infrared.
Standard Broadband Plate Beamsplitters
Dimension(mm)

Product Number

450-650nm

650-900nm

900-1200nm

1200-1550nm

D10.0

ICC-VPB0101

ICC-VPB0201

ICC-VPB0301

ICC-VPB0401

D12.7

ICC-VPB0102

ICC-VPB0202

ICC-VPB0302

ICC-VPB0402

D15.0

ICC-VPB0103

ICC-VPB0203

ICC-VPB0303

ICC-VPB0403

D20.0

ICC-VPB0104

ICC-VPB0204

ICC-VPB0304

ICC-VPB0404

D25.4

ICC-VPB0105

ICC-VPB0205

ICC-VPB0305

ICC-VPB0405