Infrared window application and features
Featured Product from Intrinsic Crystal Technology Co., Ltd. (ICC)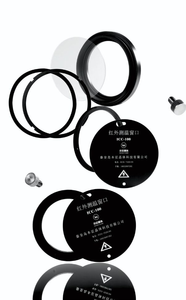 Infrared window application
Medium and high voltage switch cabinets, metal armored cabinets, urban ring grid cabinets, motor junction boxes of power plant fans, pumps, coal grinder, etc., transformer junction boxes, G15 high voltage equipment, motor control center, and other sites requiring infrared detection under closed environment.
ICCwindow features
Intuitive: uv, visible light, infrared (0.15-14um), suitable for all current infrared thermal imager, infrared point temperature instrument, ultraviolet thermal imager.
Safety: The infrared window can be used to avoid the damage of electromagnetic radiation, high pressure, high temperature and other harsh on-site conditions to users, and the contact temperature of the electric cabinet and various high temperature equipment can be safely detected on the live.
Quick: It only takes a few minutes for the installation and reconstruction of the electric cabinet. After installation, it is convenient to open the protection cover, so that many targets can be observed quickly for internal inspection.
Cost saving: By using the infrared window, the user can carry out preventive detection in the dangerous area without interrupting or interfering the operation of the equipment, so as to save a lot of money.
No special maintenance: it can be used for more than 20 years without external damage.