Oxygen Analyzers
Product Announcement from Irwin Car and Equipment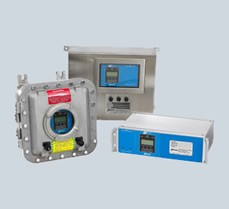 Ntron has Oxygen Analyzers that meet your application specifications. For example:
Ntron Model Oxytron 2000™ Process Oxygen Analyzer
The Ntron Oxytron 2000 is a full-featured industrial process control instrument for measuring oxygen in industrial process vessels and gas streams.
By continuously measuring oxygen, the Model 2000 provides increased safety margins in process manufacturing environments. It reduces inert gas consumption and VOC emissions by allowing manufacturers to use inert gas only as needed to maintain safe oxygen levels.

The Model 2000 offers low installation cost and comes ready to install with no additional hardware/software needed. Automated sensor calibration and system diagnostics enable low operating and maintenance costs.
The Oxytron 2000 provides the gas analysis component of the Neutronics Inerting Control System (ICS), the only proven system that automatically controls the level of oxygen in process manufacturing. Originally developed for one of the country's largest chemical manufacturers, Neutronics ICS has been proven reliable in thousands of installations.
---