Scrap Charging Buckets
Product Announcement from Irwin Car and Equipment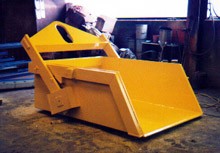 Bottom doors, fabricated of dished plate are waffled for added strength and allow the bucket to sit on the floor without special auxiliary supports. Cylinder body of rolled plate is welded inside and out. Main bails are of heavy duty construction or for long life - ease of operation. A spreader beam type auxiliary bail and guides, keep the door operating cables from wearing against the bucket.
For loading bucket, the main bail swings aside to provide a clear top opening. The bucket is then positioned over the furnace. The primary crane hook is engaged in the main bail, and the auxiliary crane hook is engaged in the auxiliary bail. The auxiliary hook lifts the auxiliary bail which actuates the door. The door pivots on individual hinge pins - linked together to synchronize opening, closing, and locking of doors.
Buckets are also available with loose "ladle type" main bails and separate auxiliary bails. Other bail configurations, such as main bail trunnions located on the same centerline as the door hinges, are available to suit your individual conditions.
Let us design one to suit your exact requirements and dimensions.
---