Laser Cutting System RubyLaser
Featured Product from Isotech, Inc.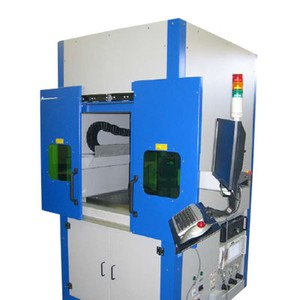 RubyLaser cutting and welding laser system is designed for accurate and fast processing of a vast variety of metallic materials on a heavy duty compact platform. It uses the latest fiber laser technologies for high quality results at much lower cost of ownership.

Compact footprint, flexibility, accuracy and ease of use make RubyLaser system a smart choice for many industries and from small to large scale operations.

RubyLaser uses maintenance-free; high efficiency fiber lasers with very low running cost, just a fraction of running cost of CO2 or YAG lasers for comparable processes. In addition, fiber lasers have much longer life times compared to other types of lasers.

In addition, RubyLaser employs advanced beam delivery and conditioning systems that guarantee very fine edge quality for a wide variety of materials processed by the system.

RubyLaser features fully enclosed (Class 1) industrial laser cutting system designed with ultimate safety, accuracy, ease of operation, low maintenance and durability in mind.
RubyLaser working area can be customized to suit your process. The system can be fitted with a wide range of laser powers in order to offer the most economical solution.

RubyLaser can be configured for cutting or welding applications. It is a perfect tool that can process a wide variety of materials including different types of metals and alloys and many other materials. Please contact AAA for more information and arrange to cut or weld your samples.