Customizable Belt Driven Actuators
Featured Product from Isotech, Inc.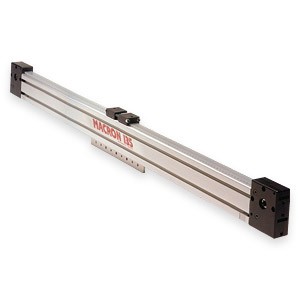 Isotech belt drives and actuators are available in three different configurations, allowing engineers to select standard models for off-the-shelf availability, plug-and-play models for ready out-of-the-box automation, and customer built models that allow for a wide range of configurations.
Standard Belt Driven Actuators
Standard actuators are available in stock travel lengths from 184 mm to 2242 mm and offer users a number of commonly configured options. Off-the-shelf availability allows for fast delivery while still providing industrial quality for a range of linear motion and automation applications.
Plug-and-Play Belt Driven Actuators
Plug-and-play actuators and belt drives provide users with ready out-of-the box automation functionality. Each unit comes complete with actuator/belt drive, a UL approved electric motor, and PLC device. These models are a good fit for educational and university robotics, or laboratory and research applications.
Custom Belt Driven Actuators
Custom actuators and belt drives deliver the same features as standard models, however, these models allow users to specify custom specifications including but not limited to cart design, belt options, extrusion size, length and finish, and any special requirements for gearboxes and motors. The modular design of Isotech belt driven actuators allows for fast customization to meet most specifications without ordering a totally custom item, ultimately reducing cost.
Additional Belt Driven Actuator Information
Isotech's belt-driven actuators can operate at speeds up to 15,240 mm per second and do not require lubrication or maintenance under normal operating conditions. Isotech's belt drives and actuators are ideal for use in applications where speed is critical such as pick-and-place applications on high speed automation equipment. Length is a significant advantage of the Isotech's belt driven actuators, providing travel lengths up to 152.4 meters (500 ft.). while maintaining repeatability of +/- 0.001 in. and linear accuracy of +/- 0.001 in. per foot. Features include a steel-reinforced polyurethane belt that helps deliver repeatable positioning by avoiding belt stretching, and positive timing belt drive which further improves accuracy and speed. A proprietary extrusion design provides long travel, smooth movements, and excellent repeatability.
Isotech's belt drives and actuators accept NEMA 17, 23, and 34 motors and can be configured to accept other sizes. Planetary gearheads are available and contribute to the performance of the actuators by providing gear geometry optimized for planetary systems using zero helix angle gears to avoid unbalanced forces caused by helical gears. Our belt drive actuators offer different types of bearings support. Steel concave rollers (DBM) riding on chrome-plated steel rails provide excellent positioning accuracy even in applications that require long travel. A plastic coated needle (DBN) bearing assembly offers the highest possible speeds. Finally, plastic bearings (DBP) running on aluminum rails provide ultimate durability in tough push-pull applications. The steel bearings are supplied with lifetime lubrication while both types of plastic bearings require no lubrication at all.
Isotech's applications engineers can help you select the appropriate belt actuator and gear box for your application. Isotech can also provide special designs of its actuators for nearly any application.
High speed capability
Travels to 152.4 meters (500 ft.)
Cost effective solutions available for high speed applications
Wide selection of gearheads, motor mounts, limit switches and mounting hardware
Custom designed for your application