Limit transmission of vibration, impact, & noise
Featured Product from Isotech, Inc.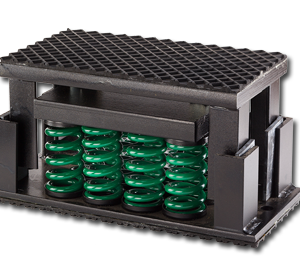 Vibration and instability can shorten the life of any equipment, as well as cause unsuitable noise disturbances. Isotech's spring-based products are designed to diminish these factors. We offer a broad range of spring isolation mountings and hangers that will limit the transmission of vibration, impact and noise over a variety of applications - from engine gensets and small fans to heavy duty HVAC equipment and industrial machinery.
The spring mount and housing, and therefore its series and options, must be carefully selected for the mount's intended usage. Our ongoing product development and improvement ensures that every installation is correctly designed and accurately manufactured to provide the maximum efficiency needed for any application.
Features/Benefits:
Load ranges from 50 to 8,000 lbs.
Heavy duty welded steel housings
All directional limit stops
Reduces vibration, shock and structureborne noise transmission
Construction/Material Data:
Oil-tempered, high carbon steel springs, powder coated for corrosion resistance
Horizontal limit stops in molded polyurethane
Vertical limit stops, neoprene impregnated cotton duck
Heavy duty all welded construction
Zinc plated hardware and zinc chromate primed housing and metal parts
Applications:
Marine and mobile installations