IPG FIBER LASER CUBE CUTTING SYSTEM
Featured Product from Isotech, Inc.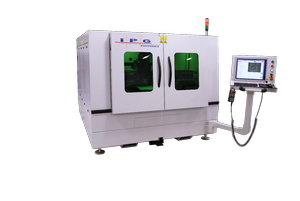 You can make a huge difference in your business by investing in your company now instead of waiting. Take advantage of our sale price along with no payments for up to 4 months!
If you may have received PPP money that will be taxable, you can also consider taking Section 179 (IRS TAX CODE) which allows you to deduct the full purchase price of the laser system for 2021.
The IPG Fiber laser cube is the most cost-effective machine on the market today with a host of advanced and proven technologies. With over 200 machines sold to date in the US, this versatile ALL INCLUSIVE laser system features :
4kW power with G/M code Striker software included.
Cutting table 49.2 x 49.2 inches ( but can cut up to 8 feet)
Compact footprint
Linear motors – no wear, no maintenance, no ball screws!
Accuracy to .001, Repeatability to .0002
2400 ipm max cutting speed
Granite base- vibration dampening, precision machining
Chiller included
2 X peak power- best edge quality, eliminates spatter and debris to the top surface
Roll out table ( optional table support heavy sheets)
Capable of some laser marking parts
Can make combo turret press laser parts
>50% wall plug efficiency, more economical than operating C02
100% MADE IN THE USA, CDRH FDA rated, CLASS ONE- SAFE !
INCLUDES TRAINING AT YOUR FACTORY, TRAVEL, INSTALLATION, FACTORY ACCEPTANCE, AND ADDITIONAL SOFTWARE WEB BASED LEARNING MANAGEMENT PROGRAM FOR RE-USE.
2-3 year warranty
OPTIONS
Upgradeable laser power
Vision registration
4

th

axis rotary for 36″ long cylindrical up to 6″ diameter, square up to 4″ diameter
Pneumatic Clamps
Extended warranty available
4kW – no one can beat the price or the performance!
(Power ranges from 450 watts to 6kw)
WHY WAIT ? CALL FOR A FREE DEMO, INFO, AND TOUR
BE AHEAD OF THE CURVE and START MAKING MONEY IN 45 DAYS WITH NO PAYMENTS FOR 4 MONTHS !