Non-Magnetic Linear Slides
Featured Product from Isotech, Inc.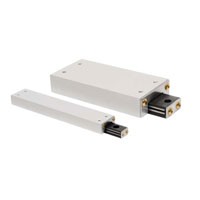 Isotech Inc., a supplier of precision linear motion products, has introduced a new line of lightweight, non-magnetic linear ball slides designed for motion applications that are sensitive to magnetic influence.
"We have seen an increasing demand for non-magnetic motion components," said Joe Casillo, president at Isotech. "From sensitive electronics, medical equipment, and semiconductor, to liquid crystal manufacturing and inspection equipment, the applications are numerous."
Isotech's new non-magnetic ball slide construction consists of silicon nitride ceramic ball bearings, titanium shafts, aluminum carriage and base, and brass fasteners. The end result is a non-magnetic, lightweight, and low maintenance ball slide.
Factory preload minimizes side play and provides low friction, while a self-cleaning ball bearing design offers long life and requires no lubrication. Both of these features contribute to simplify maintenance and provide a long service life (100 million inches at one half the unit's rated load is estimated) for each ball slide unit.
Isotech non-magnetic roller slides are available in a range of models and specifications and support travel lengths of .50 to 12 inches, load capacities of 1.2 to 61.5 pounds, straight-line accuracy to 0.0005 inches of travel, positional repeatability of 0.0002 inches, and provide a typical coefficient of friction of 0.003 inches. Standard mounting holes simplify installation. Clear anodize carriage and black anodize base finishes are standard and other finishes are available upon request.
Isotech non-magnetic linear ball slides are available for quick delivery. Isotech can work with design engineers to identify the appropriate product for most motion control applications. For more information call Isotech at 800-314-3332 or visit www.isotechinc.com