Noise Barriers
Featured Product from Isotech, Inc.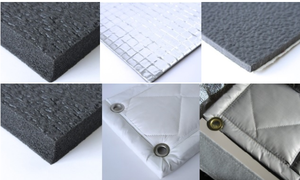 These products significantly reduce airborne noise levels by blocking the noise path between the noise source and the receiver.
Isotech, Inc. offers a wide range of Noise Barrier products to contain/reduce/block the noise path. These include flexible portable or permanent enclosures or sheets and rolls of mass loaded vinyls, quilted barrier composites and absorber barrier composites.
A noise barrier treatment is extremely effective in reducing overall noise levels depending on the extent that the noise barrier blocks the sound path. The ideal situation would involve a full enclosure including 4 walls and a roof to eliminate the direct "line of sight". Ventilation baffles, doors and windows can be custom designed and furnished.
Isotech, Inc. offers full enclosures made out of steel or semi permanent flexible enclosures which can consist of flexible barrier blankets supported from metal frames with grommets and Velcro sides for maintaining the acoustic integrity.