Prevent shock and vibration transmission
Featured Product from Isotech, Inc.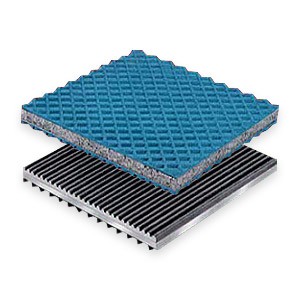 Convenient, Economical Mountings Eliminate Bolting or Lagging to Floor
Isotech offers a most complete line of pad type mountings which provide excellent high frequency sound attenuation and can be used effectively to prevent shock and vibration transmission in non-critical installations. For vibration isolation they are primarily limited to medium and high speed equipment, and are generally economical only with light and medium weight equipment. Heavier capacity pad mountings approach the cost of more efficient steel spring isolators.
* NRC Pad Mounts have replaced all cork rib pad models.
Typical Applications:
Air Conditioners
Compressors
Cooling Towers
Crushers
Diesel Generators
Processing Equipment
Pumps
Steam Generators
Textile Machinery
Transformers